ALTAS AUTO expands its product line with two new mid-size electric bus models
September 25, 2023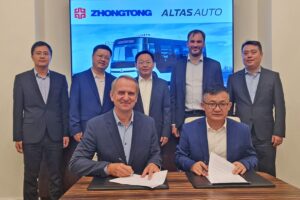 One of the leading European minibus manufacturers, ALTAS AUTO, plans to expand its present EV product portfolio with two new increased passenger capacity electric buses. This bold move was made possible in close strategic cooperation with ZHONGTONG BUS company – one of the largest global bus manufacturers with 15 years of experience in EV bus manufacturing. On the eve of the forthcoming Busworld 2023 exhibition, both parties have signed a partnership agreement.
ALTAS AUTO has extensive knowledge of the European minibus market and customer needs, together with vast experience in maintaining this category of vehicles. Meanwhile, ZHONGTONG BUS has a lot of experience applying electric drive to larger buses. ZHONGTONG BUS will share its broad technical expertise in manufacturing bigger capacity fully electric buses for Europe.
A new 7.5 m city bus vision will be presented at the ALTAS AUTO stand in the Busworld 2023 exhibition as a sustainable alternative for urban public transport. Based on this concept, the partnership between both companies will create a whole line of new ALTAS AUTO midi-size buses that meet European specifications and requirements.
Having 7.5 m in length and less than 2.1 m in width, the new mid-size bus has been designed for easy driving on narrow city streets that are difficult for conventional buses to access. It is also a suitable and effective solution for serving suburban areas with low passenger density, carrying up to 37 passengers.
The even bigger product – with a total length of 8.7 m and a maximum capacity of 60 passengers – will be presented in Europe shortly afterwards.
"The strategic partnership will enable two companies to fulfil our goals. By combining ZHONGTONG BUS competencies in the production of electric buses and ALTAS AUTO experience in the European small bus market, we are expecting to strengthen our positions further and provide a solid ground for even closer cooperation in the future", Edvardas Radzevičius, CEO of ALTAS AUTO.
ZHONGTONG BUS has been exporting its manufactured buses to many countries around the world for many years, but we started working in the European electric bus market only recently. We hope that by applying our competencies in the production of electric buses and the skills and knowledge of Altas Auto in the European small and medium bus market, we will be able to create and deliver high-quality products that meet customer expectations in a relatively short time." – Jiliu Li, General Manager of ZHONGTONG BUS Europe", GmbH.
"This agreement with ZHONGTONG BUS is another step in ALTAS AUTO's strategy to develop innovative solutions, expand product portfolio and move toward fully electric, zero-emission products." – Edvardas Radzevičius, CEO of ALTAS AUTO.
The new mid-size electric 7.5 m model and other ALTAS AUTO electric buses will be presented at the Busworld 2023 exhibition in Brussels from October 7th to 12th, at stand P4 in Patio Hall.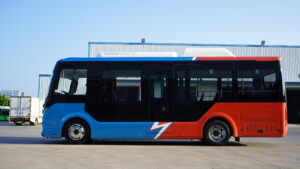 About ZHONGTONG BUS HOLDING CO., LTD.
ZHONGTONG BUS is one of the largest bus manufacturers in China, with an annual production capacity of up to 30,000 units (total premises area of 300,000 m2). The company was founded in 1958 and specialised in producing and repairing various vehicles. The company started producing buses in 1971, so it has accumulated valuable experience in this field. The company exports its products to more than 100 countries and is one of the largest bus exporters in China. For 15 years, the company has produced various sizes of electric buses, which will make up 60 % of the total production portfolio this year.
About ALTAS AUTO
ALTAS AUTO is a significant player in the European minibus market, renowned for exceptional manufacturing and distribution of top-notch vehicles. The company's minibus production primarily involves utilising Mercedes Benz Sprinter and MAN TGE bases. With a team of 200 skilled professionals, ALTAS AUTO can deliver more than 700 minibuses annually.
Since 2002, ALTAS AUTO has operated in 18 European markets, utilising advanced technology and extensive engineering experience. ALTAS AUTO representatives in each market handle sales and provide excellent service, including prompt assistance, warranty and post-warranty maintenance, spare parts orders, and technical consultations for our valued clients.