ALTAS AUTO growth reached 22% in H1 '23
August 2, 2023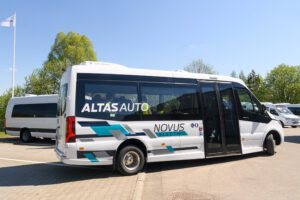 Despite the challenges and uncertainties at the beginning of 2023, we achieved yet another record in the first half, with sales soaring by 22%, reaching 22 mil EUR.
The factory output reached 253 buses in H1, out of which EV buses accounted for a remarkable 26% – for the first time in our history. EV buses accounted for 12% in 2022 H1. The main growth driver has been the rapid electrification efforts of transportation companies in Western Europe.
Electric buses represent the most promising product line for ALTAS AUTO, and we now manufacture three 100% electric models. In addition to our low-floor city and school buses, we have introduced luxurious tourist buses this year, permitted to enter the green zones of European cities.
"Our systematic efforts in the European bus market have borne fruit. While many businesses changed their strategies during the pandemic to cut costs by producing campers or other specific products, we took a different approach and boldly invested in the development of new electric products.
By collaborating closely with European bus operators and expanding our range of services and products, we've earned recognition and appreciation from major transport companies in Western Europe for the quality, design, and functionality of our products," says Edvardas Radzevicius, founder and CEO.
Today, we are reaping the rewards of our bold actions. Clients value the importance of entrusting their orders to reliable partners. After the pandemic, the availability of trustworthy partners and suppliers in Europe significantly decreased, those capable of managing large orders while ensuring top-notch quality.
Looking ahead to 2024 and beyond, we anticipate continued growth due to the increasing share of EV buses in our production and sustained demand for our smaller buses.
Our key differentiator lies in our high competence in executing complex, large-scale projects dedicated to public transport. This market tends to be more resilient to economic crises and other shocks, as public transport must operate under any circumstances.
"Clients have embraced our offerings for the public transport market, our 'Cityline' buses becoming the most popular model in European cities.
Producing such buses demands meticulous attention, as customer demands are often highly individual and specific. Integrating sophisticated electronic equipment into buses to connect them to modern smart city management systems is a common request. Our ability to deliver on such projects continuously strengthens our position in the market," says the head of ALTAS AUTO.
Today, we position ourselves as a service-oriented company capable of meeting the complex, non-standard, and innovative needs of transportation companies.