Altas Auto presents new generation EV minibuses
October 6, 2022
Celebrating its 20th anniversary, European minibus manufacturer Altas Auto delivers brand new 100% electric products to Italy and France markets. The new 22 passenger electric low floor minibus "Novus Cityline" is based on the famous "Sprinter" platform from Mercedes-Benz.

This year Altas Auto is quickly shifting its focus to electric (EV) buses, as the demand for sustainable transportation in Europe is growing rapidly. The company has customer orders until the end of the year and is planning even greater growth for 2023. 
"We are developing new partnerships in the Italy and France that will enable us to be a highly competitive European customized automaker", says company CEO Edvardas Radzevičius.
"Our strategic priority is to be close to the local customer. By entering new markets firstly we are going to build a trusted partner network and strengthen the presence of our electric buses in the local market", – says Altas Auto CEO. 

Product portfolio
Today Altas Auto manufactures a wide range of highly customized buses based on Mercedes Benz Sprinter vehicle platform.
In 2021, Altas Auto presented the first 100% electric minibus called "Novus Cityline". The bus immediately grabbed market attention and was awarded a Golden Product of the Year 2021 award.
The wide product range includes school, low-floor, tourist, business class and multifunctional mini buses with high degree of customisation to special client needs, various regulation requirements, climate needs, etc.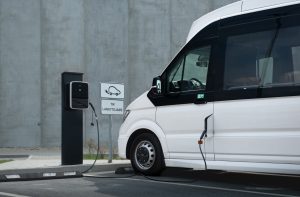 EV product line

For now, the company offers 2 different, fully electric models: low-floor city minibus "Altas Novus Cityline" and intercity / school bus called "Altas Novus Ecoline".
Altas Auto introduced its first electric minibus model in May 2021 and since then the inquiries and orders started pouring like a waterfall with some 20% of all inquiries being for the EV buses.
The team of Altas Auto engineers were developing the electric mini bus for several years and today the customers are very pleased with the rigorous test results the company has performed this year.
During a full load test in SORT 2 mode combined with frequent stops, Altas Novus Cityline reached a maximum 275 km range. This exceeded all expectations by at least 20%.
The technical specifications can be described as possibly the best on the market and the company is confident about meeting clients needs with these new zero emission vehicles.

Best fit for public urban transportation
As the European automotive industry is slowly taking a new path into sustainable, electric transportation, Altas Auto is one of the European leaders in this field, with real hands-on expertise and 100% European manufacturing.
This September Altas Auto delivered a batch of 27 new EV buses for Lithuanian capital Vilnius municipality ensuring new public transport routes in suburban areas. 
This year Altas Auto CEO plans to reach at least 20% of total sales to be electric vehicles.
Market data shows the clients of the company are planning to use EV buses for public urban and suburban transportation. The interest of municipalities for green transportation is growing rapidly and we see them already moving towards EV transport systems.
In some countries, municipalities decided to use EV in public transport already from 2025 onwards. Considering the fact that transportation agreements are contracted 5-8 years in advance, today is the day of EV rise in the EU.